Biotrue ONEday for Presbyopia (30 lenses)
Gelone Eye Drops 10 ml
Immediate and long-lasting relief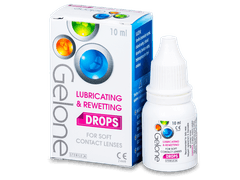 Soothes dry and sensitive eyes
Creates a film that protects the eyes
Can be used on all types of contact lenses
Reviews
144

of our customers recommend this product
Comments (2)
Do you have any questions?
My current lenses have BC 8.8 and Dia 14 and +3.00 I need to wear a +2.00 with my lenses for reading so what do I order in multifocal lenses.
Answer
Hi, Georgina, In this case, a difference of 0.2 for both BC and DIA is not huge- although, to be sure, we highly suggest consulting with your optician. However, for these, please select Add Power High (+1.75-+2.50).
Thanks, Alensa
Are Biotrue one day for presbyopia available in the box of 90 lenses?
Answer
Hello Stan, although we don't have the Biotrue OneDay presbyopia lenses in 90 packs, we have these and others in affordable 30 packs. You can see all of our multifocal lenses here http://www.alensa.ie/…-lenses.html