MyDay daily disposable (30 lenses)
Smart
Alternative
Extra lubrication
UV filter
Money-back Guarantee
Smart
Alternative
Gelone Eye Drops 10 ml
Immediate and long-lasting relief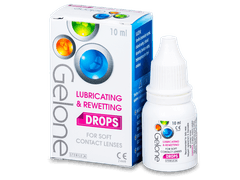 Soothes dry and sensitive eyes
Creates a film that protects the eyes
Can be used on all types of contact lenses
Reviews
118

of our customers recommend this product
Comments (2)
Do you have any questions?
Do you provide these lenses with other BC (8.6 my requirement) and DIA (14.5 my requirements) measurements? Paul
Answer
Hi, Paul, Unfortunately, we only stock the described parameters of BC 8.4 and DIA 14.2.
Thanks, Alensa
I'm looking for new lenses but I need a toric in my left eye can you please help as in my left eye I apparently need MyDay Toric and MyDay in my right. Are you able to help? Fearghal
Answer
Dear Fearghal,
Unfortunately we do not offer those lenses on our website. Please feel free to contact us at info@alensa.ie if you have any further questions or enquirers, we are always happy to help!