Proclear 1 Day (30 lenses)
Smart
Alternative
UV filter
Thin and comfortable edges
Money-back Guarantee
Smart
Alternative
Gelone Eye Drops 10 ml
Immediate and long-lasting relief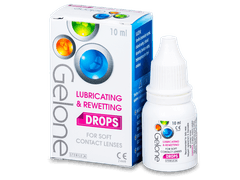 Soothes dry and sensitive eyes
Creates a film that protects the eyes
Can be used on all types of contact lenses
Reviews
145

of our customers recommend this product
Comments (8)
Do you have any questions?
Proclear 1 day base curve is 8.70, but I have 8.50 on my prescription. Will the difference matter much?
Answer
Hello Caroline - Proclear 1 Day lens parameters for base curve (BC) are standard, and cannot be changed. Most people will not notice any difference if the lens differs 0.2mm or less than what is indicated on their prescription. However, if you do have any concerns, please consult with your optician.
Are Proclear 1 Day hydrogel or silicone hydrogel lenses? I have heard silicone might be newer or better. Can you confirm? Thank you in advance.
Answer
Hi Monica, Proclear 1 Day are hydrogel lenses. Despite their lower level of oxygen permeability, they have a very high water content, which many people find very comfortable to wear. If you are looking for a daily lens with silicone hydrogel, you may consider 1 Day Acuvue TruEye http://www.alensa.ie/…ye-30-lenses
Hi there, do you have the proclear 1 day 90 pack of lenses?
Hello, I've been wearing these and am quite happy, but I notice the Proclear 1 day dk/t value seems low compared to other brands. Is there something better I should look into?
Answer
Hi Colin, the Proclear 1 Day oxygen permeability level is quite average for this material. The water content, though, is quite high. It's the combination of these 2 factors that makes the lenses feel comfortable on your eyes. If you're comfortable in these lenses, there's no reason to change :)
Are these lenses the same as Proclear 1 day sphere?
Answer
Hello Barry, Yes, Proclear 1 Day Sphere is the complete name of the product. You'll find the indication "1 Day Sphere" on the side of the box.
Is there such a products as Proclear 1 day for astigmatism? Been wearing these for a while, but have had an eye exam and developed astigmatism. Any advice would be great, thanks.
Great value for daily lenses; and the order process is easy too. Lenses dispatched almost immediately, and arrived quickly with DHL.
Switching to daily lenses has been life changing. Great customer service here, too. Thanks for the assistance.