SofLens Daily Disposable (30 lenses)
Smart
Alternative
UV filter
Thin and comfortable edges
Money-back Guarantee
Smart
Alternative
Gelone Eye Drops 10 ml
Immediate and long-lasting relief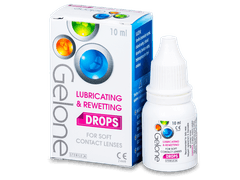 Soothes dry and sensitive eyes
Creates a film that protects the eyes
Can be used on all types of contact lenses
Reviews
298

of our customers recommend this product
Comments (3)
Do you have any questions?
Do you have 56% 1 day Silicone Hydrogel
Answer
Dear customer,
We do not have a daily disposable Silicone Hydro-gel lenses with water content of 56%, however we have 'MyDay daily disposable' which are daily disposable lenses, also hydro-gel, and they have 54% of water content. If you have any further questions, please contact us at info@alensa.ie
Do you offer soflens daily disposable free trial lenses?
Answer
Hello Seamus, unfortunately it's not possible to get trial contact lenses online. This is because you need to have a proper eye examination from your trusted optician in order to get a more accurate suggestion of the lenses that may be right for you.
Hello, Is Soflens Daily Disposable material suitable for dry or sensitive eyes? I've not used daily lenses before, so I would appreciate some advice.Thanks.
Answer
Dear Eva, Soflens Daily Disposable lenses have an exceptionally high moisture content. They are very comfortable for most wearers throughout the day. If you experience any dryness or sensitivity, you can always try some refreshing eye spray, like Laim Moisture eye spray http://www.alensa.ie/…-spray-15-ml