Add a solution: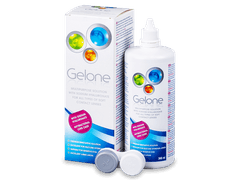 Gelone Solution 360 ml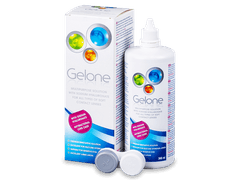 Gelone Solution 360 ml
€9.89
€8.39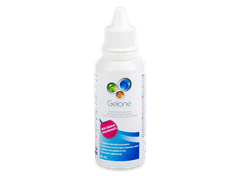 Gelone Solution 50 ml
€2.79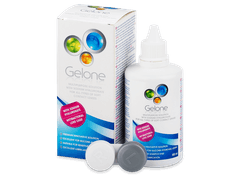 Gelone Solution 100 ml
€4.75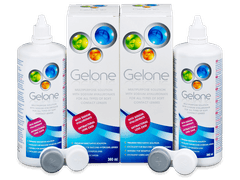 Gelone Solution 2 x 360 ml
€18.29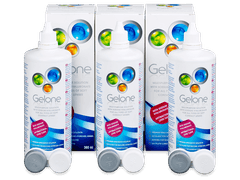 Gelone Solution 3 x 360 ml
€26.39
Gelone Eye Drops 10 ml
Immediate and long-lasting relief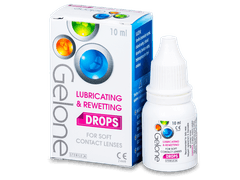 Soothes dry and sensitive eyes
Creates a film that protects the eyes
Can be used on all types of contact lenses
Reviews
36

of our customers recommend this product
Comments (24)
Do you have any questions?
In what country are made lenses?
Answer
Dear Vaida, Thank you for your question. The TopVue lenses are produced by Interojo Inc. in Korea.
Hello I am interested in trying Topvue Air lenses (price is a little more attractive). I'm using Biofinity at the moment, will I be able to wear these with no problem?
Answer
Hi Siomha, TopVue Air and Biofinity have very similar properties, so you should find them perfectly suitable. Our TopVue lenses come with a money-back guarantee, so if you are unsatisfied for any reason, you're welcome to return them for a full refund. More about our guarantee here: http://www.alensa.ie/…arantee.html
What is the difference between Topvue air and Topvue premium? I am interested to try a Topvue monthly lens, but not sure which might be better
Answer
Hi Turner, Both TopVue Air and TopVue Premium feature an extraordinarily high level of oxygen permeability. With more oxygen able to nourish your eyes, the lenses can be comfortable throughout the day. The only difference is that TopVue Air are monthly lenses and TopVue Premium should be replaced every 14 days. You can read more about TopVue Premium here: http://www.alensa.ie/…ium-6-lenses
Hi there, I'm trying to find the best contact lenses for dry eyes. Does a higher water content mean they're more suitable for dry eyes?
Answer
Hello Martha, 2 factors to consider when choosing lenses for dry eyes are water content and oxygen permeability. Water content refers to how much moisture the lenses can maintain to keep you comfortable throughout the day. Oxygen permeability refers to how much oxygen is able to pass through the lens to nourish the cornea. Both of these measurements in TopVue Air are quite high.
Great lenses - really good for my dry eyes. I prefer these over any other lenses I've used in the past 15 years.
Comfortable and well-priced. Lenses arrived quickly with no hassle. excellent all around.
Very easy to wear. I'm generally uncomfortable with lenses in, but a friend recommeneded these, and they've given me no trouble whatsoever. Amen!
Lightest, most comfortable monthly lenses I've tried. I've already recommended them to my husband and sisters. I'm pleased to say we're all very satisfied customers.
Nice lenses, very comfortable and a great price. Overall very pleased.
Very pleasant to wear. I'm quite happy I gave these a try. Will definitely reorder and recommend to friends.
I can't even feel these lenses when they're in my eye. Perfectly comfortable throughout the day.
Excellent experience with Alensa. You handled my return flawlessly. No problem whatsoever with these lenses, I only wanted to make a switch to the Topvue daily lenses. I'm very pleased with the lenses and the entire process.
Sturdy, reliable lenses for a good price. I tried these as a free gift, and decided to re-order. I'm saving a lot of money now, and I appreciate it.
Much better quality lens than the daily lenses, in my opinion. I will happily stick to using these for a while, based on comfort and cost.
Very easy to wear contact lenses and cheaper than many other brands I've tried. Fast, reliable delivery with DHL. I would buy from Alensa again.
Good quality lenses, and exceptional service. The lenses arrived promptly, and I've been thoroughly pleased with my ordering experience with Alensa.
Very good lenses, overall. They don't dry out in my eyes, and I find that I can wear them comfortably most days for the whole day, which wasn't possible with Surevue.
The moisture is noticeable. Usually my eyes are drying out in the afternoon, but I can get in a full 12 hours in these with no discomfort.
Overall, great lenses. I was a bit worried about handling, as they seemed much thinner than lenses I'm used to, but they made up for it with comfort.
I tried topvue as the free gift with my order, and i'm impressed. i plan to re-order these when my current lenses run out.
I'm a recent convert to the Topvue brand, but these lenses are a spectacular value for my money. I can't really tell that I'm wearing them, which has never been entirely possible with other lenses.
Good lenses; very light and comfortable. I'll definitely be a repeat customer.
Great value for the price. I appreciate the smooth ordering process.
Was quite sceptical about this product, but ended with good result in the end.