TopVue Daily (30 lenses)
€14.29

14.29
€12.59

12.59
Smart
Alternative
Extra lubrication
UV filter
Money-back Guarantee
Smart
Alternative
Gelone Eye Drops 10 ml
Immediate and long-lasting relief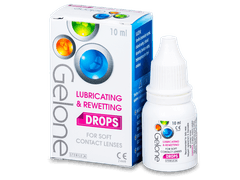 Soothes dry and sensitive eyes
Creates a film that protects the eyes
Can be used on all types of contact lenses
Reviews
41

of our customers recommend this product
Comments (24)
Do you have any questions?
Gave these a try because they're a lot cheaper than my regular lenses. Really, please i gave them a go. They're comfortable and light on my eye and fell pleasant for the whole day.
Super affordable lenses and they feel nice on my eye.
Where are Topvue contact lenses made? I've not heard of the brand, but would be keen to try it since they can be returned. Thanks.
Answer
Hi Owen, TopVue silicone hydrogel daily contact lenses are manufactured in Taiwan. The brand and the lenses are "CE" certified for health and safety within the European Economic Area (EEA). You are welcome to try them without risk under our money-back guarantee.
Consistently great service from Alensa, and the lenses are very comfortable for me.
Excellent, prompt service! The lenses are great too. I have had problems with other daily lenses splitting in my eye, but these seem durable and I've had no problems with breakage.
Quite durable little lenses for daily wearing. I have been through 3 months worth, and havent had any tears, rips or other issues with quality. Highly impressed with this product.
I wanted to test these ahead of my ski holiday in December. Perfectly clear and comfortable. I'm confident I'll have no problems wearing them while skiing.
Well priced, and comfortable. Excellent service and quick delivery. Very pleased with my order overall.
Comfortable and well priced. I tried them as a gift with a previous purchase, and now I'm a TopVue convert. Love them.
Good service and communication from your side. Your customer service helped me avoid delivery problems. Thanks a lot.
Good, dependable lenses, and attractive price. My order arrived promptly, and the communication with the company and DHL was excellent.
Slight cost increase comes with switching to dailies from monthlies, but it's well worth it. I feel I've done my eyes a big favor. I highly recommend these lenses.
Nice lenses, at a great price. Smooth ordering and delivery process, too.
I've found other daily lenses to be more drying than these. Not sure if it's how they are made, but these lenses seem to offer better moisture and comfort than some others. Feel great, and don't break the budget. Marvelous.
Brilliant. Comfy and best of all no need to store and clean. Just throw away when your done. For those lazy people :)
well-priced and durable lenses. great first experience with this brand.
tried these instead of acuvue and pleasantly surprised, loved my gift as well!
I normally wear monthly lenses, but I take these with me when I'm traveling for work. Really saves a lot of hassle with solution.
First time customer here, and I thank you for a smooth order process and delivery. I tried these daily lenses because of the price, and I've been impressed with the quality.
I got these lenses as a gift with my last order. They seem very good, and you really can't find a better deal on daily lenses.
Awesome lenses, and the value for money is great. Better than any other brands I've tried.
Thx for the super fast shipping!
Just discovered this brand. Great find. Cheapest dailies I've found, and every bit as comfortable.
Extremely comfortable! I quite enjoyed the sample solution and case with my order. Thank you!