TopVue Elite+ (30 lenses)
€18.05

18.05
€16.25

16.25
Gelone Eye Drops 10 ml
Immediate and long-lasting relief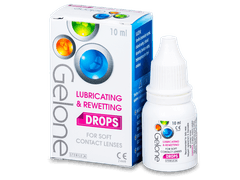 Soothes dry and sensitive eyes
Creates a film that protects the eyes
Can be used on all types of contact lenses
Reviews
37

of our customers recommend this product
Comments (11)
Do you have any questions?
Just received these today. Very fast shipping and so far so good with the lenses
I got these for my elderly mother who wanted to try contact-lenses having wore glasses for many years. We went to the optician and tried the sample ones which were very comfortable (my mum has very dry eyes) but they were soo expensive to buy. After searching online i found these at a much cheaper rate and with the same level of moist and comfort, it just goes to show that higher price does not mean better. I am very pleased to find these and will certainly recommend. Thank you.
Comfortable and last the whole day. Recommended
They last all day!! and very comfortable
So so comfortable! Very satisfied
Most comfortable long lasting lenses. Last from morning to evening without any discomfort. Very pleased
I am very pleased with these. An upgrade from my last contact-lenses
I really love these lenses! Sooo comfortable and long lasting. Thank you
Greetings - just confirming it's possible to try Topvue Elite and return if they're not suitable? I have found success with the Topvue monthly lenses, but thought I'd give daily a go. Thx.
Answer
Hi Seamus, yes, absolutely. You're welcome to give TopVue Elite a try, and if you're not satisfied, simply return them for a refund under our money-back guarantee. We hope you like them, and you can find more info about our guarantee here: http://www.alensa.ie/…arantee.html