TopVue Premium (2x6 lenses = 1 QTY)
Delivery
1–2 Days
€5.95
Free Delivery
for orders over 70€
Free Gifts
for orders over 80€
2 weekly contact lenses TopVue Premium
TopVue Premium bi-weekly contact lenses are a new product from TopVue. These 2 weekly contact lenses are made from a new generation of silicone hydrogel, which has been specially modified to provide the greatest comfort while wearing and also to eliminate eye irritation as a result of dry lenses.
Money Back Guarantee
Money back guarantee
If the contact lenses do not meet your expectations, you can return
4 unused lenses
within 60 days of delivery including for a full refund.
More information...
Perfectly designed edges

TopVue Contact Lenses boast very thin edges. The eyelid comes into contact with the lens edge whenever we blink. If the edge is thick, we are aware of the presence of the lens in our eye. Although a seldom-discussed factor, the lens edge is decisive for the comfort of wear.
Daily Wear
TopVue Premium contact lenses are fortified by added sodium hyaluronate early in the production process. Sodium hyaluronate is gradually released during wear and keeps the lenses comfortable in the eyes, preventing undesirable dryness.
Sodium hyaluronate is one of the most effective lubricating substances, and it has absolute compatibility with the physiological environment of the eye. Therefore, it does not cause any discomfort or undesirable complications, as may be the case for other wetting agents. This substance is completely natural to humans and can be found in body fluids such as joint fluid and the vitreous humour, the gel filling of the eyeball.
All-day Hydration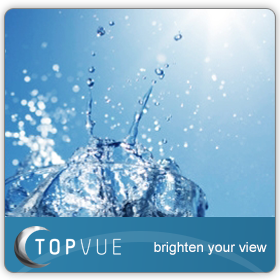 The innovative material of TopVue Premium features a high water content. This high water content combined with the gradually released sodium hyaluronate creates a perfect hydration system. The hydration system helps keep the contact lenses moist and comfortable throughout the day. This effective water storage and hydration system also reduces deposits on the lens surface and helps to maintain the health of your eyes.
Maintaining Healthy Eyes
Innovative technological processing of silicone hydrogel materials provides TopVue Premium high breathability by transporting atmospheric oxygen to the cornea through microscopic channels. The ability to transfer oxygen (transmissibility) is 104 Dk / t in TopVue Premium. The hydrogel material in TopVue Premium contains 45% water content. Both the high breathability and high water content help TopVue Premium contact lenses supply the eyes with a sufficient amount of oxygen, which is an essential component for keeping your eyes healthy and functioning properly.
Properties
| | |
| --- | --- |
| Manufacturer: | TopVue |
| BC: | 8.60 |
| DIA: | 14.20 |
| Pack size: | 12 lenses |
| Oxygen permeability: | 104 Dk/t |
| Replacement schedule: | 14 Days |
| Water content: | 45% |
| Expiration: | 48 months and more |
| Power range: | from -12.00 to +8.00 |
| Lenses Material: | Innofilcon A |
| Extended or overnight wear: | No |
| UV filter: | No |
Do you have any questions?